Check out the latest from our friends at MotoIQ. Their Project FR-S had pretty noticeable engine vibration at 6500 rpm on the track. Mike Kojima of MotoIQ indicated, "We were thinking that the crank had torsional vibration that the supercharger was amplifying making the vibration more noticeable."  After speaking with other track-driven FR-S/FT86/BRZ owners, all noticed this vibration as well. MotoIQ decided to reach out to us.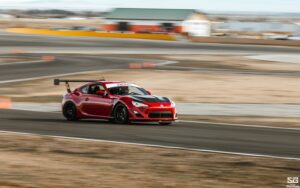 In the article you can read what steps the MotoIQ team took in analyzing the Subaru FA20 engine data. The data led to a better understanding of how a Fluidampr (specifically p/n 571101) could help to reduce engine vibration at higher RPM. This is why the team at MotoIQ chose a Fluidampr harmonic damper for their engine build & they saw the benefits immediately after installation.
"Back at the track, our car felt a lot smoother. In fact, it was hard to feel the vibrations at 6000-6500 (rpm) that previously worried us" said Mike Kojima. The Fluidampr harmonic damper provided the solution. Not only to reduce the damaging vibrations, but also unleash lost horsepower & torque. From the street to the strip, contact us to see how a Fluidampr harmonic damper can help your next build!

Fluidampr has no connection or affiliation in any way with Subaru.  Reference to any trademarked product(s), name(s) or OEM number is intended solely for reference to the usage for that Fluidampr part.  No product were manufactured by the previous mentioned companies or their suppliers.