Tractor Pulling
Universal Fit For Taper Lock Hub
Tractor pulling engine builders long favored Fluidampr parent company, Vibratech TVD heavy duty viscous dampers. Fluidampr now takes it further with 35 years of experience developing dampers for professional motorsports. The result is exceptional, long lasting crankshaft vibration control for today's top Pro Pullers.
In comparison, the new Fluidampr tractor pulling damper surpasses the Vibratech TVD heavy duty damper in competition use. The Fluidampr design meets SFI 18.1 safety specifications for high rpm structural rotational integrity. Inertia mass is roughly 10% greater to optimize vibration control for higher torque. Additional internal components compensate for greater thrust loads. Overall, thicker steel and laser welding the housing creates a single piece design for superior durability under high torque and horsepower.
The damper also features a more robust, 12 bolt on 4.5" b.c. mounting flange. The universal fit design requires a taper lock hub with 3.25" pilot.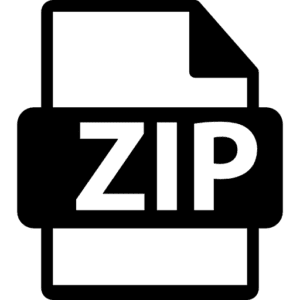 Download Competition Series Media Kit (11MB.zip)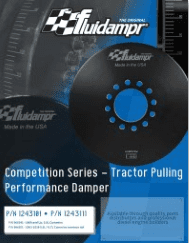 Download Competition Series Informational Flyer
| PART # | 1243101 |
| --- | --- |
| Fitment | Tractor Pulling. Universal Fit For Taper Lock Hubs. |
| Bore Diameter | 3.25 |
| Degree Marking Range | TDC to 180 at 2 degree increments. Clockwise and counter-clockwise. |
| Degree Markings | Yes |
| Engine Balance | Internal |
| Finish | Black Zinc |
| Keyway | NA |
| Length | 1.61" |
| Material | Steel |
| Mounting Hardware Included | No |
| Outside Diameter | 12-13/32" |
| Safety Rating | SFI 18.1 |
| Weight / Rotating Weight | 37 lbs / 24.4 lbs |
---
| PART # | 1243111 |
| --- | --- |
| Fitment | Tractor Pulling. Universal Fit For Taper Lock Hubs. No pre-drilled bolt holes. |
| Bore Diameter | 3.25 |
| Degree Marking Range | TDC to 180 at 2 degree increments. Clockwise and counter-clockwise. |
| Degree Markings | Yes |
| Engine Balance | Internal |
| Finish | Black Zinc |
| Keyway | NA |
| Length | 1.61" |
| Material | Steel |
| Mounting Hardware Included | No |
| Outside Diameter | 12-13/32" |
| Safety Rating | SFI 18.1 |
| Weight / Rotating Weight | 37 lbs / 24.4 lbs |
---
| PART # | 960341 |
| --- | --- |
| Fitment | 1989 and Up. 5.9L Cummins. Competition series - no pulley. |
| Bore Diameter | NA |
| Degree Marking Range | TDC to 180 at 1 degree increments. Clockwise and counter-clockwise. |
| Degree Markings | Yes |
| Engine Balance | Internal |
| Finish | Black Zinc |
| Keyway | Drill pin kit #300002 recommended over 3500RPM |
| Length | 1.363" |
| Material | Steel |
| Mounting Hardware Included | No. Recommend Fluidampr #300002 over 3,500rpm; #300007 up to 700hp / 1,250ft-lbs; #300008 above 700hp / 1,250ft-lbs. |
| Outside Diameter | 10" |
| Safety Rating | SFI 18.1 |
| Weight / Rotating Weight | 25.0 lbs / 16.7 lbs |
---
| PART # | 980301 |
| --- | --- |
| Fitment | 2003-2018 5.9L / 6.7L Cummins common rail. Competition series - no pulley. |
| Bore Diameter | NA |
| Degree Marking Range | TDC |
| Degree Markings | Yes |
| Engine Balance | Internal |
| Finish | Black Zinc |
| Keyway | Drill pin kit #300002 recommended over 3500RPM |
| Length | 1.90" |
| Material | Steel |
| Mounting Hardware Included | No. Recommend Fluidampr #300002 over 3,500rpm; #300007 up to 700hp / 1,250ft-lbs; #300008 above 700hp / 1,250ft-lbs. |
| Outside Diameter | 10-3/32" |
| Safety Rating | SFI 18.1 |
| Weight / Rotating Weight | 28.8 lbs / 19 lbs |
---