START YOUR ENGINE
In the mid-1980s professional race engine builders approached Vibratech TVD, parent company to Fluidampr. Their challenge was to apply extremely durable, commercially proven viscous harmonic balancer technology to motorsports. Fluidampr was born.
Since, we continuously innovate our design and manufacturing process to exceed the evolving demands of racing. Strategic position of mass, optimal weight, superior durability, ever higher RPMs, high ambient temp with low air-flow engine bay environments, and broad range damping are areas Fluidampr continues to lead on with viscous damper technology. Today, breakthroughs from Fluidampr's involvement in motorsports translate back to Vibratech TVD. These are applied to OEM automotive, marine performance, aviation and defense industry applications.
OEM factory race teams to grassroots Saturday night racers have made Fluidampr the leading viscous harmonic balancer in motorsports. Hot rodders and restorers trust Fluidampr. Performance Diesel competitors value our diesel heritage and high power experience. Import owners appreciate that we optimize damper design and performance to their engine's needs. From R&D to sourcing materials to manufacturing and assembly, all are proud it's done right here in the USA. Shipped world-wide.
---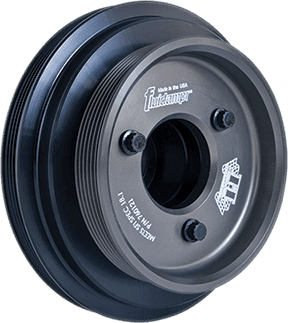 ---
Fluidampr performance dampers is the brand name you know. Parent company, Vibratech TVD is where the science happens. Automotive performance powertrain engineers, production engine builders and aftermarket performance kit manufacturers have an experienced partner through Fluidampr to develop and integrate turn-key torsional dampers with exceptional quality. Contact us for consultation.
At our core Vibratech TVD is a torsional vibration solutions provider to OEMs and their suppliers. We offer the widest application experience of torsional viscous dampers in the industry. From 1.1lb (0.5kg) automotive cam dampers to 7,000lb (3,175kg) gas compression pumping engine crankshaft dampers. 100hp to 25,000hp. Vibratech TVD is also leading into tomorrow with new highly durable narrow-range viscous damper designs to minimize targeted NVH in commercial electric drivetrains.
For consultation and pricing, call (716) 592-1000 or visit VibratechTVD.com.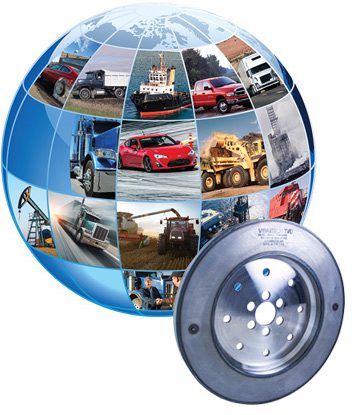 Industries
Automotive
Aviation
Commercial
Defense
Marine
Off-Highway
Oil & Gas
Rail
Transit
Applications
Crankshaft
Camshaft
Driveline
Electric / Hybrid Drive
Capabilities
Powertrain torsional vibration analysis; including crankshaft, camshaft and driveline.
Torsional damper engineering.
Integrated design.

CAD simulation modeling.
Finite element analysis.
3D additive printed prototypes.
Comparative product testing.
Advanced American manufacturing.