HOW FLUIDAMPR WORKS
Fluidampr is a torsional vibration damper. Its function is to provide durability by controlling destructive torsional vibration. A side benefit to vibration control is releasing lost torque and horsepower through greater efficiency.
A Fluidampr performance damper is constructed from three main components:
1. Outer housing
2. Inner inertia ring
3. Silicone fluid
The outer housing mounts to the crankshaft. When combustion triggers rapid twisting and rebounding (torsional vibration), the outer housing and inner inertia ring will move in-and-out of phase with each other. The motion of the inner inertia ring through the silicone creates shear. Shear eliminates unwanted vibration.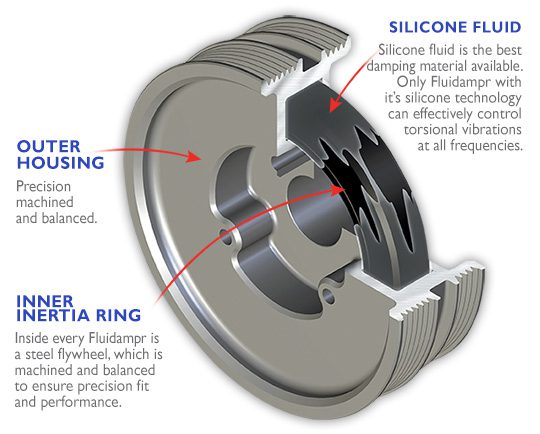 Why silicone?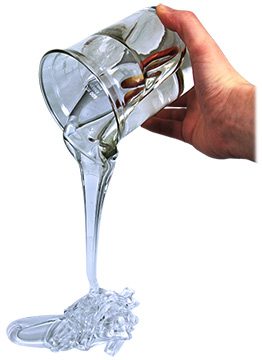 Viscous silicone maintains viscosity tolerance across a wide temperature range. Approximately -40° F to 300° F. This provides very consistent and predictable damping properties.
Excellent heat dissipation and low friction of silicone are other key silicone advantages.
Quality matters
Not all viscous dampers are the same. They may be referred to as a fluid damper, but they are not a Fluidampr brand performance damper. Always look for the official 'The Original' Fluidampr logo when purchasing. Fluidampr performance dampers are only available through reputable performance parts retailers, jobber shops and distributors.
Leading OEMs also trust Fluidampr, and parent company Vibratech TVD, because of our ISO 9001:2015 certified quality standards and proven experience in professional motorsports since 1985. Modern design and manufacturing advances pioneered by Fluidampr are used in Vibratech TVD viscous dampers. These include cutting edge military vehicles, extreme weather commercial vehicles, race boats and high-end sports cars.