Fluidampr is a proud sponsor of the upcoming Advanced Engineering Technology Conference (AETC).  AETC provides engine builders the opportunity to learn first-hand from industry leaders, engineers and manufacturers.  Select guest speakers include:
Jon Kasse. Jon Kaase Race Engines.
Ed Pink. Ed Pinks Garage.
Sonny Leonard. Sonny's Racing Engines.
Keith Dorton. Automotive Specialists.
Gary Patterson. Director of Engine Development | ERC Engines.
Lake Speed Jr. Driven Racing Oil.
Jeremy Wagler. Wagler Competition Products.
Chuck Lynch. Technical Specialist | AERA.
"Give us two days, and you will discover more unpublished, influential information than you could find in months at the race tracks. If you would like the opportunity to discuss and/or discover solutions, this is the conference you cannot miss."
– AETC website.
Torsional Vibration Solutions
Attendees will also have the opportunity to discuss race engine torsional vibration solutions with Fluidampr during the conference.  Fluidampr is well known as the industry leader in viscous crankshaft harmonic balancers.  We, in collaboration with parent company Vibratech TVD, also OE design and manufacture the widest powertrain application range among damper manufacturers.  From 1 lb cam dampers to 7,000lb gas compression pumping engines.  From 100 HP to 25,000 HP across the automotive, marine, commercial trucking, off-highway, rail, oil & gas, mass transit, aviation and defense industries.  This is beneficial because it lends itself to cross-industry innovation with the benefit of improving performance and durability in racing.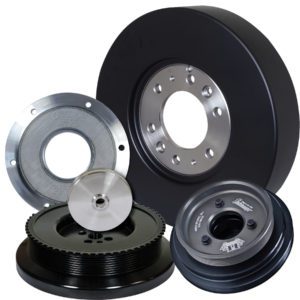 Today's high performance engines require a durable harmonic balancer that can exceed the challenges of weight constraints, rising engine bay temperatures and restrictive airflow.  This is similar to extreme commercial and military conditions.  Modern Fluidampr variations based on cross-industry applications are currently used by prestigious automotive and marine OEM factory race teams.
"Fluidampr was able to supply us with an item that has a lot more durability than our previous elastomeric damper.  The new damper gives us more confidence for the 24-hour races."
– Vince Tiaga, Corvette Racing Project Lead,  GM Performance.
Race Engine Technology Magazine.  Sept/Oct 2017.
In addition to crankshaft dampers, Fluidampr can also develop and manufacture cam shaft dampers, driveline dampers and hybrid/electric drive dampers.  Engineering services include:
Torsional vibration analysis
Modeling and simulation
Integrated design
Prototyping
Validation testing
ISO 9001:2015 Design & Development certified.
AETC Details

AETC is held before the PRI Show, Dec. 4 & 5.  Extended bonus sessions occur during PRI on Dec. 6 & 7.  The conference is located on the second floor of the Indiana Convention Center.  Additional sponsors include Callies, Comp Cams, Driven Racing Oil, Mobile 1 Racing, PRI Education, AERA Engine Builders Association, and the Engine Masters Challenge.  AETC is presented by Motor State Distributing.
Visit www.aetconline.com for details and registration.