Springville, NY [June 8, 2015] – Scion FR-S / Subaru BRZ owners can now benefit from a Fluidampr crankshaft damper. The premium viscous style damper upgrade creates a long lasting foundation for durability and performance by protecting against a broad range of destructive crankshaft torsional vibrations.
The new Fluidampr performance damper was developed under the ISO 9001:2008 Design and Development certified standards set by parent company, Vibratech TVD, a torsional vibration solutions provider to OEM powertrain manufacturers.
Fluidampr vs Lightweight Crankshaft Pulley
Fitment applications and product development test results* are:
#571101 – 2013+ Scion FR-S / Subaru BRZ / Toyota GT86 equipped with 2.0L FA20 (Subaru) / 4U-GSE (Toyota) engine. Also fits 2015 Subaru Impreza WRX. Testing revealed consistent performance gains above 4000rpm compared to both an OEM tuned elastomer damper and a lightweight crankshaft pulley. The lightweight crank pulley tested provided no torsional vibration protection and left internal components susceptible to potentially destructive high frequency vibration between 5,000 – 7,000rpm.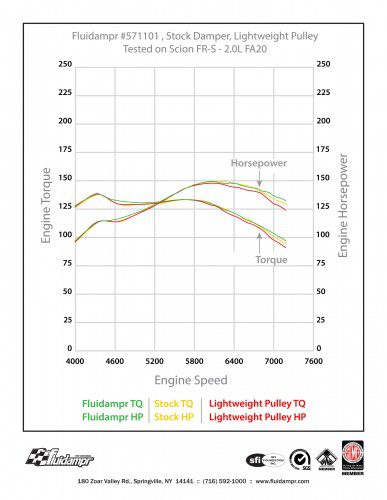 Crank Pulley Weight Considerations – Lighter Is Not Always Better
Comparative gains between 4,000rpm – 7,000rpm at only 150rwhp on a near stock Scion FR-S were noticed.  Why did the Fluidampr, at 4.6lbs heavier than the 1.195lbs lightweight crank pulley, come out on top? "Excessive crankshaft torsional vibration robs power and accelerates component wear. You need proper mass with broad range damping to control it. The more power you add, the more you need to upgrade to a quality viscous damper for durability and optimum performance," concludes Vibratech TVD / Fluidampr Sr. Design Engineer, Aaron Neyman. "Mass also determines where rotating assembly resonance points will occur. As shown during testing, without proper mass the lightweight pulley shifted a new high frequency resonance point into the operating range. This became prevelant in the 6th order vibration amplitude comparision.  Flywheel/flexplate, crankshaft, rod & piston changes can all have similar harmonic effects."
The second advantage in favor of the Fluidampr performance damper is the concept of rotating weight. While the overall weight is 5.8lbs, because the inner inertia ring is not bonded and freely rotates, its weight is not fully felt by the crankshaft once the engine is operating. It can be calculated that the rotating weight of a viscous damper is roughly 2/3 its overall weight. Meaning at rpm, the rotational weight spinning in unison with the crankshaft feels more like 3.8lbs. That, plus broad range damping, gave it the edge over the stock tuned elastomer damper.
When to install a Fluidampr in a Scion FR-S / Subaru engine project
It is recommended to upgrade the stock elastomer style crankshaft damper to a Fluidampr performance damper during the early stages of engine modifications for long term optimum performance and durability. As shown above, even near stock, a Fluidampr performance damper is beneficial. The broad frequency range protection a Fluidampr performance damper provides allows for future engine upgrades without the need for a costly damper re-tune or replacement.
Each new Fluidampr performance damper is a direct OEM replacement and features a three bolt, pre-drilled interface for accessory drives or dry sump systems. Constructed from high tensile steel, components are precision CNC machined and high speed computer balanced during manufacturing. Finished in a corrosion resistant black zinc chromate finish and engraved timing mark. SFI 18.1 certified for professional motorsports. Made in USA.
* Your results may vary.