Vibratech TVD
Vibratech TVD, the parent company of Fluidampr, is a torsional vibration solutions provider to powertrain OEMs. The company designs and manufactures the widest range of viscous dampers in the industry. Applications include crankshafts, camshafts, drivelines and electric/hybrid drives. Vibratech TVD dampers can be found in the automotive, marine, commercial, rail & transit, energy, off-highway, aviation and defense industries.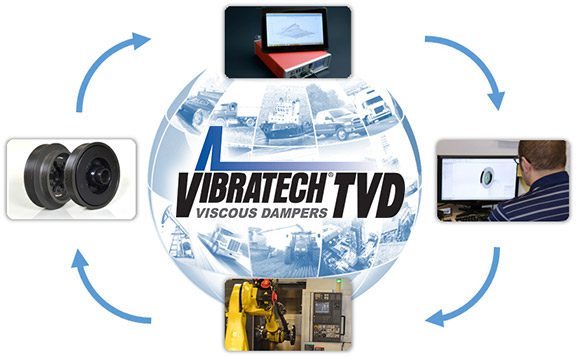 Vibratech TVD offers complete turn-key service to
assist powertrain engineers accomplish their goals.
Vibratech TVD Design and Development
• Torsional vibration analysis
• Modeling and simulation
• Integrated design
• Prototyping
• Validation testing
• ISO 9001:2015 Design & Development certified.

Vibratech TVD Heavy-Duty Replacement Dampers
Vibratech TVD heavy-duty replacement dampers are available for popular Class 8 truck engines from Cummins, Caterpillar, Detroit and Mack.
Vibratech TVD Advanced Manufacturing Highlights
• Highly skilled workforce.
• Robotic automation.
• Live statistical process control.
• Inventory replenishment blanket order programs.
• Refurbish and remanufacturing programs.
• ISO 9001:2015 Quality Systems certified.

Educational Training
Leading powertrain OEMs and engineering conferences welcome Vibratech TVD for custom tailored educational training and speaking engagements.  Gain first hand knowledge into our 70+ years of engine vibration and viscous damper function across a diverse applications.  Vibratech TVD was formally Houdaille, the original inventor of the torsional viscous damper in 1946.