TROUBLESHOOTING
Troubleshooting Harmonic Balancers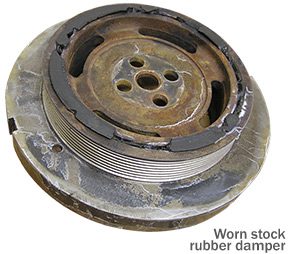 The majority of OEM cars and light trucks come with a tuned, narrow range elastomer harmonic balancer. This minimal cost-effective part helps provide durability and NVH comfort for everyday driving. These can wear down over time, especially when engine performance modifications are made to increase torque. A failing harmonic balancer can cause catastrophic engine damage. Upgrade it early in your engine build process.
10 signs of stock elastomer harmonic balancer wear.
Cracked, bulging or missing rubber.
Harmonic balancer wobbles.
Separatation between the hub and outer ring.
Timing marks slipped. Timing error code or mis-fire.
Excessive wear on main bearings.
Oil pump failure.
Broken crankshaft.
Loosening or broken bolts.
Belt slap or excessive belt tensioner movement.
Accessory drive wear and/or broken brackets.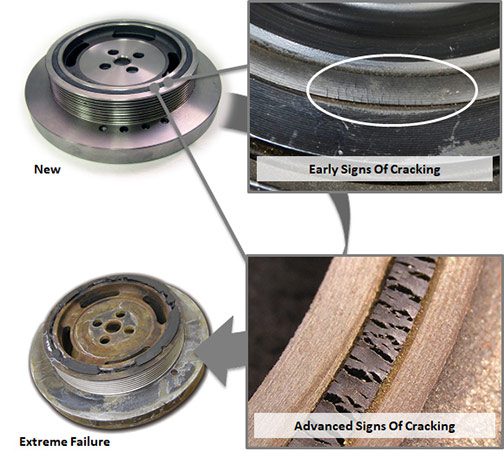 Why stock tuned elastomer harmonic balancers wear down.


Heat. Damping crankshaft torsional vibration generates heat. Increasing torque will work the stock harmonic balancer harder and generate more heat. If it cannot dissipate this extra heat, the elastomer will crack or bulge.
Exposure. Oil, solvents and ozone will deteriorate the elastomer in a stock harmonic balancer.
Cracking. Excessive power can crack the hub of a stock harmonic balancer.
Improper installation / removal. Always use a quality puller and installer kit. Failure to do may cause misalignment and galling.
Excessive belt tension. An over-tightened belt may cause crankshaft snout runout and harmonic balancer wobble.
Upgrade To A
Fluidampr Performance Damper

If you are experiencing any of the above problems it's time to upgrade to a Fluidampr. Fluidampr is the leading viscous harmonic balancer in professional motorsports.
Learn About The Benefits

Discover How It Works

Non-racing quality viscous dampers are found in high-end luxury and sportscars from OEMs such as BMW, Audi, Lexus, Ferrari and Lamborghini. Ram trucks equipped with a 6.7L Cummins Turbo Diesel also feature a non-competition viscous damper.


---
ADDITIONAL RESOUCES:
"How To Install A Torsional Damper Correctly." - Dragzine.com
"Installing Fluidampr's Harmonic Damper in a 5.9L Cummins" - DieselArmy.com
"Upgrading a 1LE Camaro's LS3 with A Fluidampr Performance Damper" - LSXmag.com