ENGINE VIBRATION
How is torsional vibration measured?


There are two approaches for calculating torsional vibration. I'm designing an engine or I'm wrenching on an engine. In the context of this being a simple workbench talk, let's assume you are in the latter category. You have a running engine or the components to build or modify one.
If you are a professional powertrain design engineer, you should explore what Fluidampr is fully capable of through our parent company, Vibratech TVD.
MeasureMENT PROCESS
Torsional vibration has multiple orders, frequencies, amplitudes across the RPM range. Some are critical, some are not. Aligning with resonance frequency is something we like to avoid too. So how do you sort all this out? To the dyno cell!
At Fluidampr we use a very sophisticated fast furrier transfer analyzer and a high resolution laser tachometer. Sorry, you're more likely to find these tools in an OEM's or pro motorsport's Noise, Vibration, Harshness (NVH) lab than your local auto parts store. We collect data points so granular you can identify individual micro-moments of where a crankshaft relative position is during a vibration cycle. A controlled speed sweep at a rate of 200rpm per second tells all.
In this example the results look like this: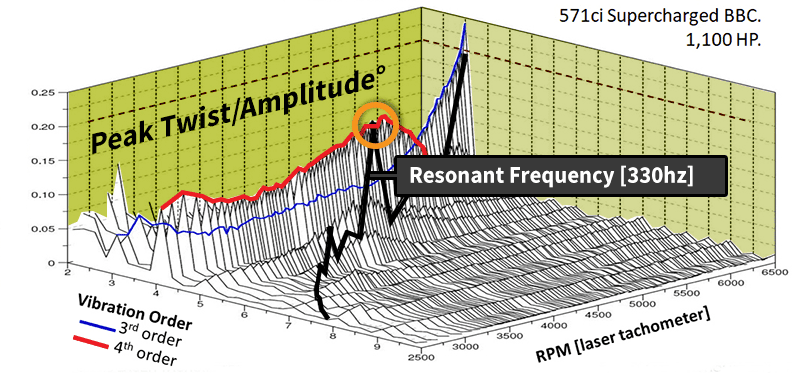 Here's the vibration orders. The 4th order is the primary order. This is the ignition event. Around 5,000 RPM ignition induced torsional vibration is occurring at 330 hz. That's an important number we'll get to later.
Here's an identified resonance frequency line . It is 330 hz. Notice where it crosses the primary order where it is also 330 hz at 5,000 RPM.
Now look at the 3rd Order amplitudes just beyond where they cross.
What does the data mean?
To a NVH engineer it shows how to construct a harmonic balancer. But only on this data set. For this particular engine. Which is great on a stock engine when you're mass producing the same design. Even for OE replacement all you need is an inexpensive tuned narrow range harmonic balancer.
The reality is we like to modify our engines. How does that change things?
Additional Resources:
For an in-depth look into torsional vibration measurement, analysis and damper development, check out this case study on EngineLabs.com