NHRA legend Harry Luzader pulls iconic Opel GT out of storage, tests damper
When NHRA champion and former record holder Harry Luzader rolled his Opel GT drag car out of 25 years of storage one question was on his mind. Was the Fluidampr he installed and raced with back in 1986-1988 still good? He was a bit hesitant after an uninformed vendor told him some discouraging myths at the Performance Racing Industry show. Especially since he owns one of the first Fluidampr performance dampers ever made.
Wanting to hear from the industry experts in crankshaft harmonic balancer development, he contacted us directly. Fluidampr's engineering facility has the capability to test damper performance without opening the sealed housing using a proprietary method and logarithmic decay modeling.
"If in fact it tests ok, it should kill the myth (I heard at last years PRI show in Florida) of them destroying cranks if old or stored," said Luzader.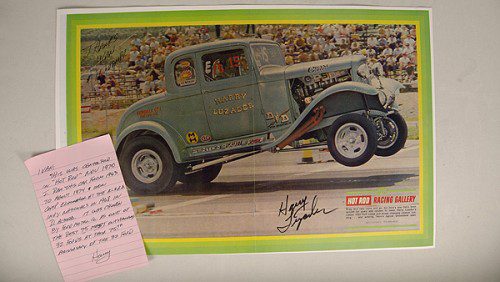 Harry Luzader – the Legend
Harry Luzader is perhaps most recognized by his famous 1932 Ford, which he raced from 1963 to 1974. In 1968, Harry would take his spot in history by winning the Comp Eliminator class at the NHRA U.S. Nationals in Indianapolis. He built the record setting Opel GT in 1974 and installed a Fluidampr performance damper when they were first introduced. "My engines ran 9500rpm with never a crank problem," he comments. In 2007, Harry was honored by Ford Motor Company at the 75th Anniversary of the 1932 Ford with a spot on the "75 Most Significant '32 Ford Hot Rods." Today, Harry Luzader owns Luzader Auto Service & Parts in rural Monroeville, PA.
The Test Results
The Opel GT is in remarkable condition after being stored since 1988.  As for the Fluidampr performance damper, the outward appearance certainly shows it has been down the drag strip a time or two and could use a fresh finish.  Regarding the condition and functioning of the internal inertia ring and silicone; after being thoroughly tested by our engineering staff it has been concluded that the Fluidampr maintained its operating parameters after sitting unused for over 25 years!
"My reputation goes way back to your beginning and your product has passed the test of time,"  confidently remarks Harry.  Even with tremendous advancements in Fluidampr manufacturing and quality through the years, he has decided to keep his original Fluidampr and will continue to run it on the Opel GT.  The iconic car is being converted back to street use with a new 401 small block equipped with a Callies crank, Mahle pistons and a Crane roller cam.