ENGINE VIBRATION
Benefits of a
Fluidampr Performance Damper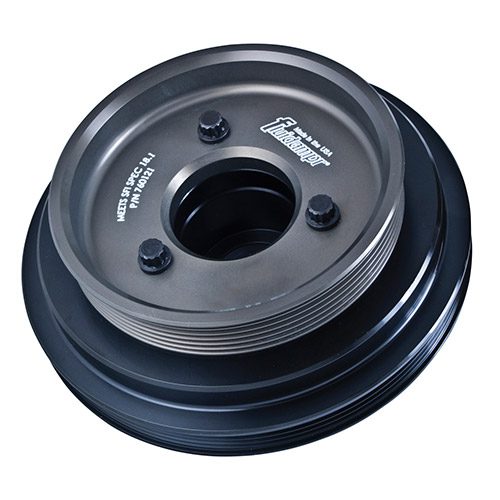 Protecting your engine from destructive torsional vibration is the leading benefit to installing a Fluidampr performance damper early in your build process. By doing this you can:
Improve the life of critical engine components.
Improve valve timing accuracy.
Safely gain horsepower and torque through improved efficiency.
Optimize the performance gains of other add-ons.
Superior damper durability and broad RPM range coverage are why champion engine builders trust Fluidampr.
"Fluidampr was able to supply us with an item that has a lot more durability than our previous elastomeric damper. The new damper gives us more confidence for the 24-hour races."
- Vince Tiaga, Corvette Racing Project Lead, GM Perforamnce. Race Engine Technology Magazine. Sept/Oct 2017.
"Fluidampr proved to be the best...On top of the numerical data, there was a noticeable reduction in harmonics that could be felt in the concrete floor of the dyno cell. We'll be using Fluidampr on all of our in-house builds..."
- Jeremy Wagler. Engine Builder Magazine – Engine Builder of the Year. Wagler Competition Products
Take a closer look at how a Fluidampr works to better understand why it is the preferred choice. At the core of each application's success is a rigorous, ISO 9001:2015 certified, design and development process.
Fluidampr specializes in torsional vibration. Parent company, Vibratech TVD is a solutions provider to many global powertrain OEMs. Including several prestigious automotive and marine brands. With over 70 years of experience, the company designs and develops the widest range of torsional viscous dampers in the industry. To see how Fluidampr performance dampers compare, check out the next topic.